Up till now, we associated manicure with elegant or fancily decorated nails. Lucie Davis, British jewellery designer decided to change that. What did she do? She created special manicure, which works like an Oyster card. How is it possible?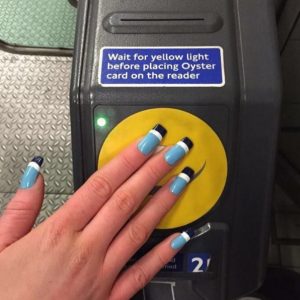 Manicure is made of the same material as the card. Lucie Davis placed a microchip in the artificial nails that allows passing through the gates in the underground. Sadly, it is a solution reserved for the citizens of London who use this type of transportation. What is more, they have to be registered in the Oyster card system. It authorise you to use buses, trains, ferries and underground. Young designer counts on the fact that manicure with embedded chip will allow all British women to get faster to work or school.
And how does this manicure look like?
Artificial nails are being glued to the nail plate, then covered with acrylic layer. After hardening under the UV lamp nails are painted. Colours are imposed and they look like the colours of Oyster card. The edge of nail is dark blue. It is separated from the light blue colour with a white strip. The entire thing looks actually good. Although, who would want to brag about such nails in front of co-worker?
Are there any drawbacks of this manicure?
Firstly, men still have to use their standard Oyster card. Because which guy would do the manicure like this or attach artificial nails? Obviously, men would much rather prefer to search for their wallet at the bottom of their bag. Secondly, would beauty parlours handle the flood of clients, who would want to place a microchip in their nails? Thirdly, it is had to imagine who and how would register people with nails a la Oyster card. Nonetheless, the idea is really original, and such a cosmetic – communication solution maybe a fixed element of XXI century.