The list featuring the benefits of argan oil seems to be endless. This is one of the best-selling oils for hair and skin. What's the secret of its success? Find it and discover 5 best argan oils, their properties, effects and uses. Fall in love with argan oil!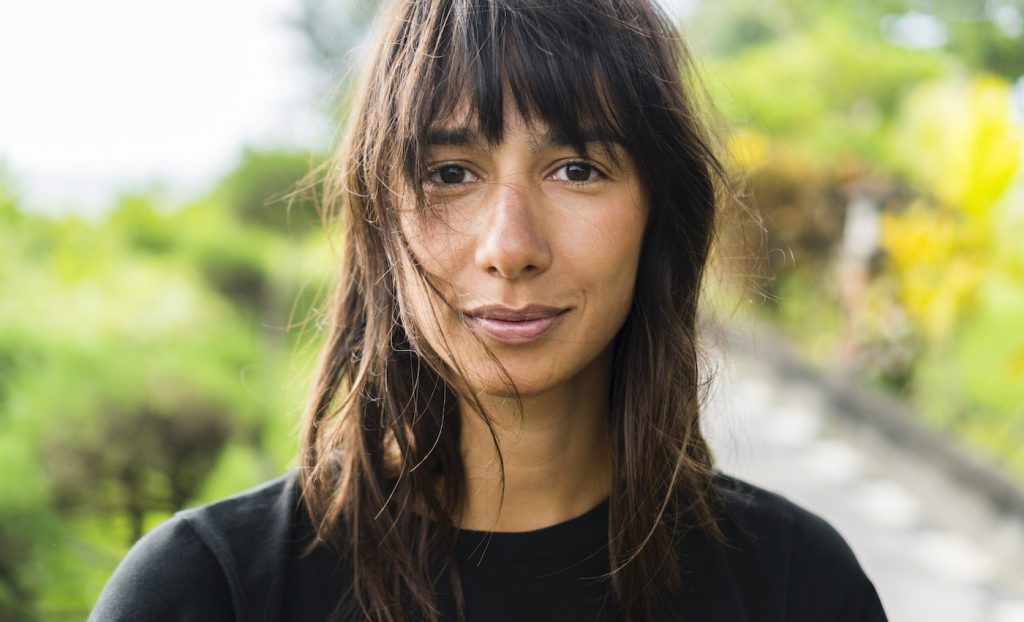 It is called Moroccan liquid gold and has become one of the most popular natural oils used during daily beauty routine. Women all over the world fell in love with argan oil for the diversity of nutrients and qualities that no other oil has.
So, what properties does it display?
This oil is extracted from argan nuts. It has a golden color and delicately smells of nuts. It isn't thick. Thanks to a high concentration of omega fatty acids, it is absorbed by the skin fast, not leaving a greasy feel. Apart from EFAs (essential fatty acids), argan oil contains many more other beneficial substances.
This vegetable oil has a great antioxidative potential and antiaging effect. It works wonders on aging skin or complexion with first signs of aging because it is high in vitamin E (tocopherol), and plant sterols including many natural substances that effectively fight free radicals. At the same time, it protects against the heat and is a natural sunscreen.
Argan oil: what does it do and what to use it for?
When it comes to beauty uses, argan oil is mostly used on hair, body and face. If you choose good quality oil – 100% Argania Spinosa Kernel Oil – you can also treat it as a natural nail conditioner or lash serum to strengthen the lashes, keep them from falling out in excess, thicken them and make them fuller-looking. The multi-purposeness of argan oil makes it a versatile beauty product to use in plenty of ways. It works wonderfully in each case.
The effects depend on the argan oil you choose (cold-pressed, unrefined one is best) and what you use it for. We sum up the greatest benefits of regular application of argan oil during our daily beauty routine below.
Repair, strengthening, natural renewal.
Soothing of irritations (including post-sun irritation).
Less noticeable face wrinkles, stretch marks, scars.
Delay of visible signs of skin aging.
Protection against the sun, temperatures, free radicals.
Naturally, we can't skip the fact that argan oil mostly focuses on nourishing, hydrating and revitalizing. It is a natural emollient which strengthens the hydro-lipid mantle of skin, preventing loss of water and ensuring the necessary protective layer.
TOP 5 ARGAN OILS
If you feel encouraged by all of the properties and possibilities, and want to incorporate argan oil into your beauty routine, you must be wondering which argan oil is the best pick. The availability is great while the prices differ enormously. It might be tricky to choose a suitable one. Make sure your argan oil is made for beauty uses, boasts high quality, holds only natural ingredients and is free from any extra substances. Avoid products in which argan oil is only one of the many ingredients. If you still don't know what to choose, see the best argan oils – you will love the effects from the very first use!
1. NANOIL ARGAN OIL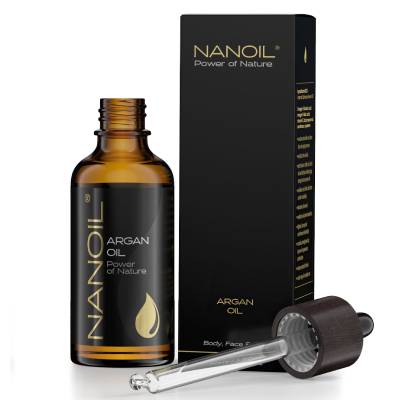 Cold-pressed and unrefined Nanoil Argan Oil is definitely number one. All-natural, organic formula is its biggest asset so it can be used freely on hair, scalp, body, face, nails, lashes and brows. This vegan product is high in the strongest natural antioxidants which make our beauty routine both very pleasurable and extremely fruitful. Nanoil argan oil is one of the lightest oils: the gold-colored oil is absorbed very fast to work from within, not overburdening hair or congesting the skin. It is hailed as the best-working argan oil currently available: it revitalizes, rejuvenates, moisturizes, smooths fine lines, plumps skin up, protects against the sunlight, and brings healthy shine back. The great thing is you can use it alone or mix it with other natural oil (also available at www.nanoil.us): this way you can customize beauty products to your own needs.
2. TIMELESS ARGAN OIL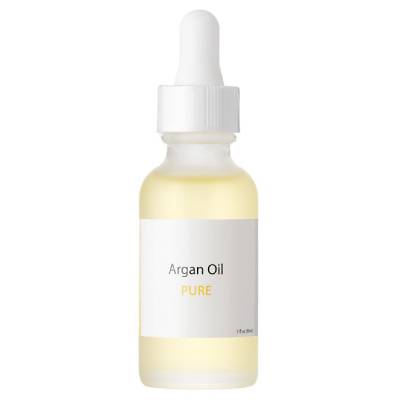 Timeless argan oil deserves to be among top five picks. It is cold-pressed and unrefined too. The oil is rich in beneficial substances which revitalize and enhance repair, for example vitamin E, EFAs or phytosterols: all ingredients found in any organic argan nut oil. Thanks to them, the argan oil by Timeless protects against external aggressors, prevents dryness of skin, enhances repair and has anti-wrinkle effect. What's interesting, even though it's pure argan oil, the manufacturer recommends to use it only on the face. If you use it on other parts of the body, it won't last you long because the bottle is quite small.
3. JOHN MASTERS ORGANICS ARGAN OIL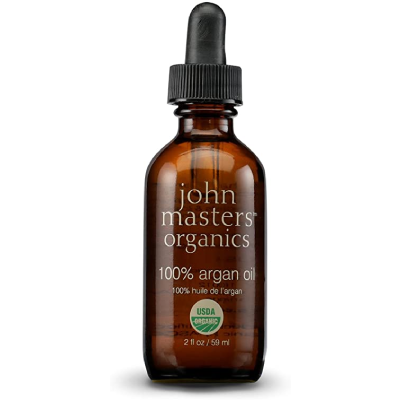 When it comes to John Masters Organics, their argan oil is probably the most expensive argan oil on the market. This natural cold-pressed unrefined oil comes with a certificate which proves it's organic. Regular application keeps the skin soft, silky smooth and elastic. As far as hair goes, the oil guarantees resilience, repairs, and holds back split ends. The good thing is we get a lightweight oil and a slightly bigger bottle than standard products. Too bad only few people can afford it. The oil has a really high price.
4. THE ORDINARY ARGAN OIL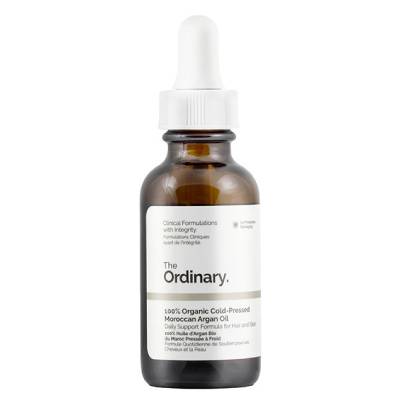 Here comes a popular pick among the fans of The Ordinary. This Moroccan argan oil works great as a hair oil, make-up removing oil, face-care oil or nail conditioner. What does it do exactly? First and foremost, it strengthens, protects and repairs, but it may also improve the look of hair or skin with long-term usage. The Ordinary Argan Oil is recommended for dry, sensitive, limp and aging skin because of its hydrating, soothing and antiaging effect. It can be used on hair, particularly dry, weak or unruly. The oil doesn't work strongly but it definitely works well. Therefore, it's good for sensitive skins, delicate hair, and is vegan-friendly (not tested on animals).
5. MOROCCANOIL ARGAN OIL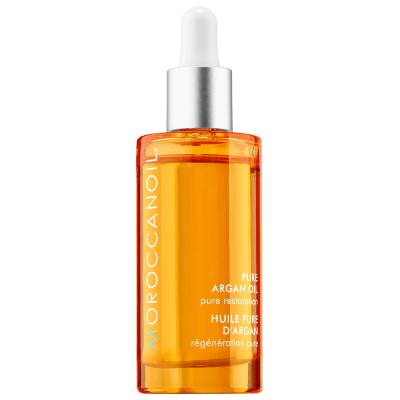 Finally, a treat from a brand famous for infusing Moroccan argan oil into haircare products. Moroccanoil Pure Argan Oil is a gold-colored oil in a small glass bottle. It is high-quality and… overpriced. The product is designed for hair, face, body and nails because it's pure and natural (INCI shows only pure argan nut oil). Because it's lightweight, it can be used without worrying about greasy skin or oily hair. It works from within leaving them moisturized and soft. It's a pity, though, that Moroccanoil turned natural argan oil into a luxury product beyond reach for most people.