Hair dryer is an irreplaceable gadget useful to every woman. Thanks to a dryer we can style, curl and straighten our hair. Philips has launched a new product quite recently – Moisture Protect dryer. Surely, many women will test it.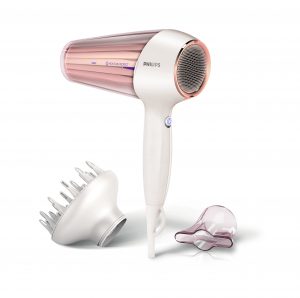 Moisture Protect is the only dryer available at the market which uses special technology to diagnose hair and adapt suitable temperature. It also uses infrared technology which controls hot airflow and stops heating at the right moment. In this way, the dryer protects our hair from drying and damage. Instead it provides proper level of hydration, smooths down the cuticles and makes hair strong and healthy. Moisture Protect Philips dryer offers six speed and temperature settings which allow to set the airflow. Thanks to this option we can style hair and strands as we like. Moreover, the device provides Thermo Protect function which gives protection from overheating and Cool Shot that you can use to switch cool air after drying.
There are two accessories that come with the dryer. One of them is a diffuser which helps to define waves and curls. The other one is a nozzle – it's used to streighten hair with a brush. The dryer provides ionic conditioning which makes your hair shiny and smooth. The cord length is 2.5 m, which makes drying and styling easier. Moisture Protect Philips has two-year guarantee providing free service during this time. The dryer's design is also worth attention. It was made from white and gold material of pink shade.
But do you know how to dry your hair safely? Moisture Protect Philips makes it extremely easy. However, before you treat your hair with hot airflow, use termprotection. Not only will it protect your hair from high temperature but will also help with styling. Hair ends won't split and hair cuticles will be closed. Take a small amount of the product, apply on your hair and spread it evenly. You can apply more on your hair ends. Dry your hair with Moisture Protect Philips and then enjoy a beautiful hairstyle.