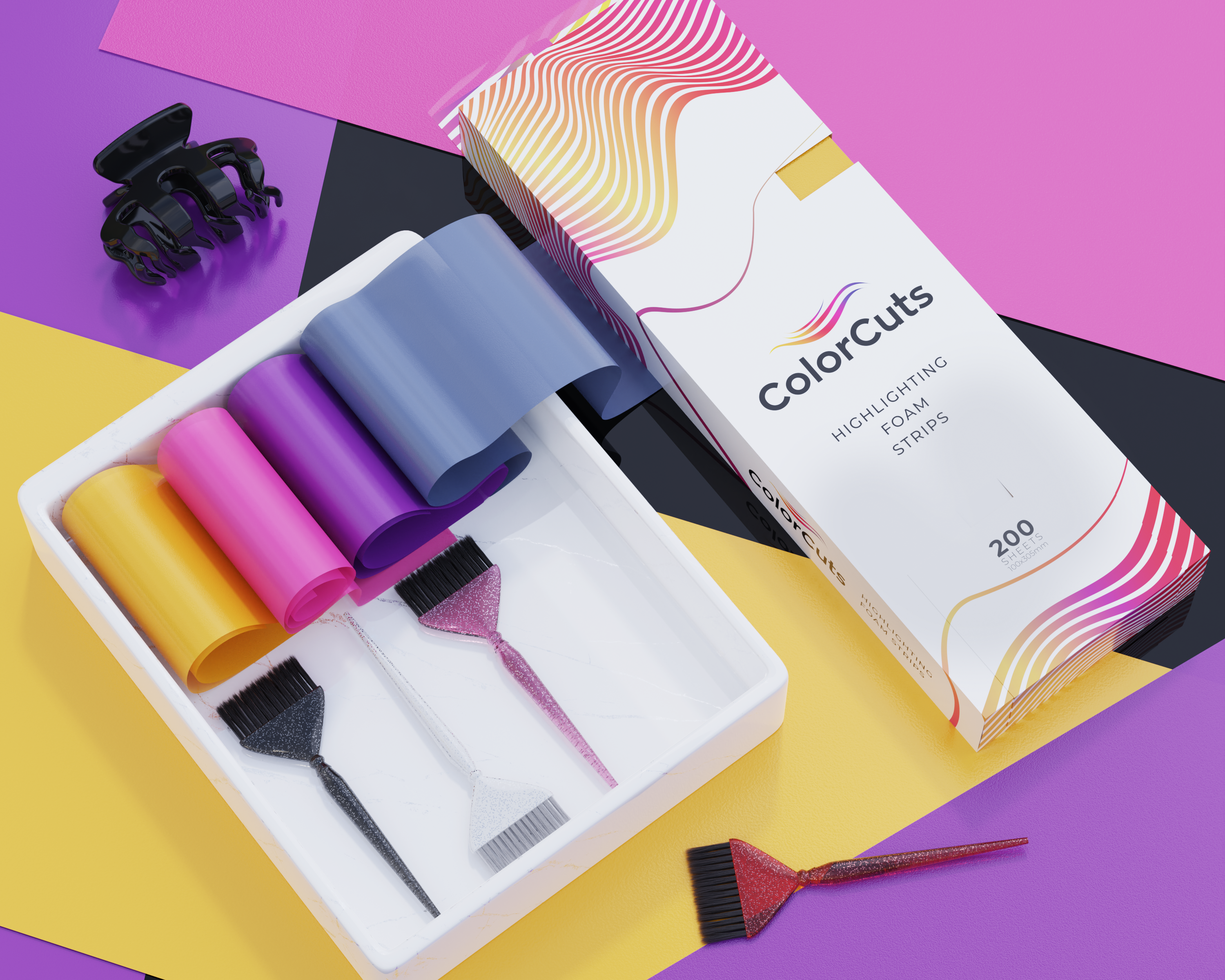 ColorCuts Highlighting Foam Strips – foam strips for every colouring technique!
Hair colouring never goes out of fashion. There are more colouring techniques year by year. Colouring hair is not just about applying one colour of hair dye or creating consistent highlights. Professional hairdressers are familiar with terms such as babylights, ronze, flamboyage… The skills and ideas of today's colourists go beyond the traditional techniques.
The innovative ColorCuts Highlighting Foam Strips can assist in creating small works of art on their clients' heads.
Highlighting Foam Strips allow more control over the colouring and bleaching process. They also reduce colouring time thanks to a special coating that boosts the effect of the colouring products. The semi-transparent material gives you full control of every stage of colouring. During the procedure, you can easily unfold the strip to check your progress.
Highlighting Foam Strips can make every colouring procedure easier, more comfortable and faster. With their help, you can achieve all the most fashionable hair trends:
sombre ➞ the hair is subtly lightened at the ends, with a smooth transition between the colour at the roots and the ends,
flamboyage

➞

multidimensional colouring with several tones of one colour, the hair looks thicker and gains volume
ronze

➞

a mixture of copper red and bronze brown,
bronde

➞

a combination of blonde and brown,
babylights

➞

subtle highlights on natural hair, the effect of hair lightened by the sun,
splashlight

➞

lightening a horizontal strip all the way around the hair, emulating the effect of beam of light hitting your hair.

ColorCuts Highlighting Foam Strips – material, properties, application
Made from polystyrene foam, Highlighting Foam Strips are an excellent heat insulator – they maintain the optimal temperature of the hair during colouring, minimising the risk of overheating. This is particularly important when bleaching hair.
Bleaching is a chemical process that removes natural pigment from the hair structure. The oxidising agent in the bleaching products releases heat during the procedure. The aluminium foil commonly used in salons further increases this feature. Excessive heat significantly weakens the condition of the hair. As a result, the hair breaks, gets frizzy, becomes thin and, in the worst case scenario, starts to fall out.
ColorCuts foam strips are gentle on the hair, don't cause skin irritation and prevent overheating. In contact with colouring products, they get adhesive to prevent slipping off during the colouring procedure. They can be bent, folded and trimmed as you wish.
The foam material is 80% recycled and recyclable. They can be washed and reused up to 3 times.
Directions to use: separate a section of hair, place the strip underneath, apply the colouring product and fold the strip in half (or cover with a second strip if you have long hair), after a suitable amount of time, gently slide it off the hair and wash for reuse. Learn more about the product: www.colorcuts.mt.
---