Cottonseed oil is created as a result of cold pressing seeds of cotton plants of various species. Unlike most oils, it is not suitable for use after just pressing. Only thanks to the refining process cottonseed oil is completely free of the undesirable substance. Gossypol protects cotton against insects and herbivorous animals and it is harmful to humans. Refined cottonseed oil has a number of conditioning properties that will take care of your skin and hair. Do you want to know more?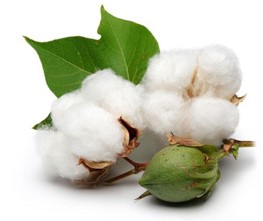 Cottonseed oil INCI: Gossypium Herbaceum (Cotton) Seed Oil
Cottonseed oil – composition 
Cottonseed oil contains nearly 90% unsaturated fatty acids, specifically oleic and linoleic acids, which eliminate free radicals thanks to double bonds. EFAs act antiallergic and anti-inflammatory, increase resistance to infections and accelerate the regeneration of epithelium and connective tissue. Cottonseed oil also contains palmitic and stearic acid and vitamin E, which delays the ageing process of the skin and hair.
Cottonseed oil – properties and cosmetic use
Cottonseed oil is suitable for skin care (both face and body) and hair. It is especially recommended for acne, dry, sensitive skin that is prone to irritation, but it can be used for all skin types. Its properties will also take care of hair, particularly dry, brittle, thin, weak and with the tendency to fall out and dandruff appearance.
Cottonseed oil – how does it affect the hair? 
Cottonseed oil provides regenerating effects, therefore, it is recommended for hair that's been damaged due to overprocessing. It perfectly nourishes, moisturises, increases shine, prevents the ends from splitting and leaves the hair silky smooth.
Cottonseed oil – what hair type is it suitable for?
Cottonseed oil will respond to the needs of high porosity hair, that is:
extremely dry,
damaged,
stiff,
brittle,
fragile,
falling out in excess,
devoid of luster and intense colour.
High porosity hair and its gaps and holes in the cuticle should be oiled with polyunsaturated and non-penetrating preparations that will reconstruct the damaged keratin structure of the hair, strengthen the core and seal the scales. And cottonseed oil is just that product.
How should you use cottonseed oil?
Cottonseed oil is perfect for oil hair treatment. In order to benefit from it, apply it to your hair for about an hour before washing or leave it in overnight. In this case, wash it out in the morning with shampoo. Then, you can blow-dry and style your hair as usual.
You can also use cottonseed oil as a serum to the tips or an addition to another hair care product, for example, a mask.
Cottonseed oil – price
The price of cottonseed oil depends on many factors, including the manufacturer, capacity and processing (refined or unrefined). Cottonseed oil has a wide spectrum of tasks, and what's more – it is effective, so the price must be adequate to its merits.
Cottonseed oil – reviews
Efficient, multitasking, effective – that's how cottonseed oil is described by most consumers. The product collects good reviews regardless of whether it is applied to the face, body or hair. The fact that it can be used by allergy sufferers makes it a universal product.