There are thousands of ways to make hair look lovely again. We can use products from our garden or reach for the ones from the other corner of the world e.g. Australia. See the most popular Aussie superfoods for hair!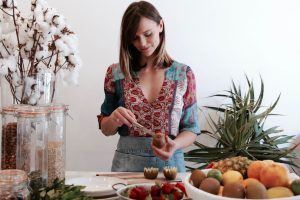 Australia makes us think of wildlife, vegetation, breathtaking ocean, lots of space and animals that cannot be found anywhere else. This continent has always been fascinating people and it is at the same time a rich source of inspiration, also as far as beauty solutions go! We like to use natural Australian ingredients to enhance the appearance and we are quite successful doing it.
Which ingredients from the other world corner should you put in your hair? What substances should you search for in beauty products for your friends and yourself? See the list of superfoods straight from Oz. These ingredients are likely to turn your hair around.
HAIR-CONDITIONING INGREDIENTS FROM AUSTRALIA
Macadamia nut oil
Since natural oils got popular, macadamia oil is getting fans too. It's a cool thing because this is one of the best conditioning ingredients from Australia. Some people call macadamia nut the king of all nuts because of the rare omega-7 fatty acid it is rich in. This is a truly beneficial substance which works as a lubricating emollient, smoothes and improves hydration in skin and hair.
Jojoba oil
Jojoba oil, or actually wax, is equally popular. It's extracted from the shrub having the same name. Many people label it the best natural cosmetic. The natives of Australia always knew its spectacular properties and now we are becoming aware of them. What's interesting, jojoba seeds are the size of coffee beans and are picked in the middle of the desert. Despite the harsh climate, they are high in nutrients and give us oil that helps treat dandruff and damage-proof the hair .
Kakadu plum
This simple-looking plum takes the top position among antioxidant-rich fruit: it has even four times more antioxidants than famous Goji berries. It looks like an olive with a stone inside it. The name comes from the Kakadu park where the plums grow. Considering beauty purposes we should seek kakadu-rich products because they help improve dry and dull hair, giving superb gloss and long-lasting hydration.
Eucalyptus Baby Blue
It's common knowledge that Australia is a homeland for eucalyptus, over 600 species of this plant! The koala's treat turns out to be a great ingredient in beauty products. Eucalyptus Baby Blue is the most common in hair products and this is a plant that the eucalyptus oil is extracted from – it boosts shine in hair and is able to ramp up its volume. Seek it in shampoos, conditioners and masks because it's rich in nutritional ingredients: vitamins, minerals, phytosterols and essential fatty acids.
Hemp seeds
We also start to appreciate the benefits of hemp seeds for hair and skin because they are rich in powerful omega-3 acids and arginine. The Aussie hemp is a great choice because it nourishes and tames the most unruly hair. What's interesting, hemp cultivation in Australia is regulated by law to receive the precious hemp seed oil. Hemp is grown in glasshouses or in the field together with plants like mint or fennel. The seeds are used for extraction of oil which is infused into many hair and skin products.