Perhaps the word keratin rings a bell to you, especially when put into the context of the keratin treatment – a chemical procedure usually done in a salon for sleek and better-looking hair. Obviously, there is more to keratin than just that because this protein also ensures regeneration, repair and reinforcement. If you would like to see its effects on your hair, but you do not have a budget for professional in-salon hair treatments, try a keratin hair mask. How to choose the right product to reverse damage quickly and successfully? Keep reading to find this out and see 5 best keratin hair masks.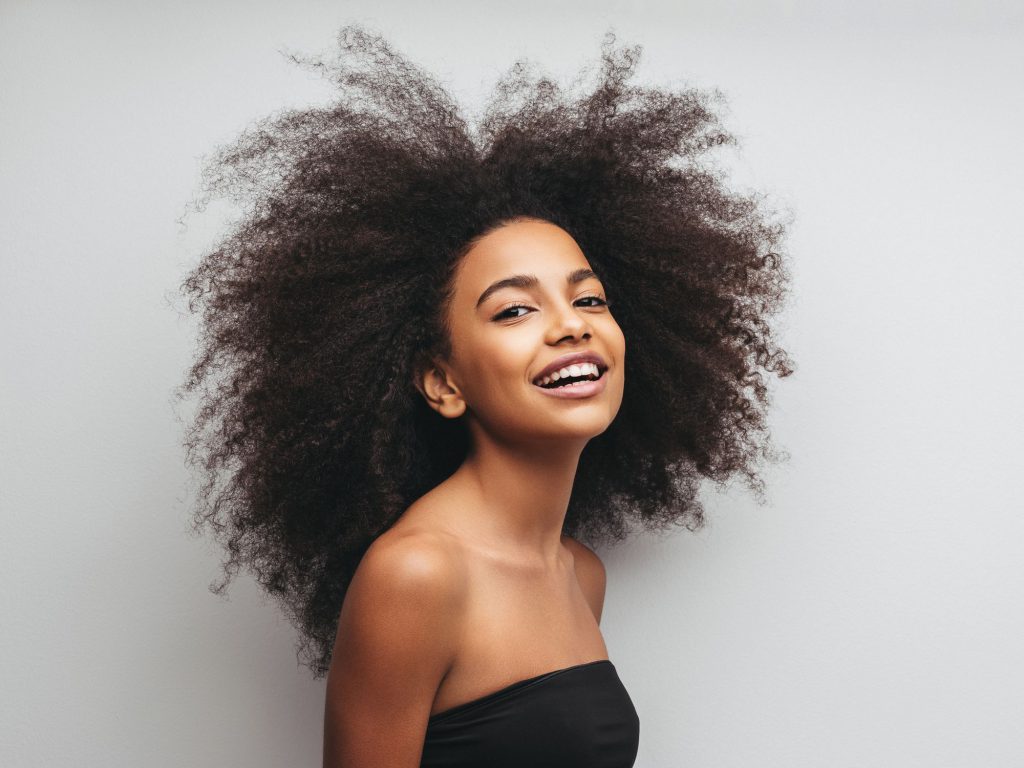 Keratin hair mask is an affordable solution for everyone because it costs significantly less than a single visit at a hairdresser's. The effects created are comparable to the in-salon keratin treatment, but getting them doesn't require spending long hours on a salon chair. Applying a hair mask takes literally a few minutes, and the effects are visible after the first use. This means that such treatment saves us not only money but also precious time. But that's not all!
Keratin hair mask
Each portion of a restorative hair mask delivers an essential amount of keratin – the protein the hair is made from. This is the very substance the hair mask bases its effects upon. Thanks to keratin, the damage is reversed so hair is getting stronger and stronger week by week. To forget about brittle strands, you just have to choose a good keratin mask. Indeed, with a keratin-rich mask, you will see the difference after just one use.
Who should reach for such a product? Indeed, a keratin hair mask is a cosmetic designed for damaged hair, but this is a generalization. It's also advised to make use of such product:
to repair brittle and breaking hair
to fix split ends
when your hair needs reinforcement
when your hair has the tendency to fall out excessively
to dry, rough-textured and dull hair
In other words, you can make use of a keratin hair mask always when your hair seems to be weak and doesn't look the way you would like it to.
Which keratin hair mask to choose?
Obviously, the effects you achieve are strongly determined by the keratin product you choose. The most important is the amount of keratin used in a hair mask, meaning that if keratin is used just as one of the fillers, not the key ingredient, then the effects may not be so clear to notice. Therefore, it's advisable to choose a hair mask that is not only composed of well-selected and high quality ingredients but also is free from parabens, PEG-s and phthalates. Only then can you be sure that the hair mask will satisfy your current hair needs.
Reviews and comments make another vital aspect. After all, who would know more about a particular hair mask than the women who have already bought and used it? If a hair mask is highly recommended, you can buy such product sight unseen – it'll give you the desired results. Hairdressers' recommendations are also a good indicator. Since they use a particular keratin hair mask in their salons, this means that it may be an alternative to professional keratin treatment.
5 BEST KERATIN HAIR MASKS
Do you lack time to look for the ideal hair mask? No worries! Here are 5 best keratin-dense hair masks for damaged hair. Find out which one will serve your strands. We compared the formulas, ingredients, effects, application and everything that makes a hair mask "the best" – because a high price doesn't always represent high quality and best results. So, which keratin hair masks are worth turning to if you're interested in getting the salon-worthy results?
1 / The best keratin hair mask for damaged, brittle and breaking hair Nanoil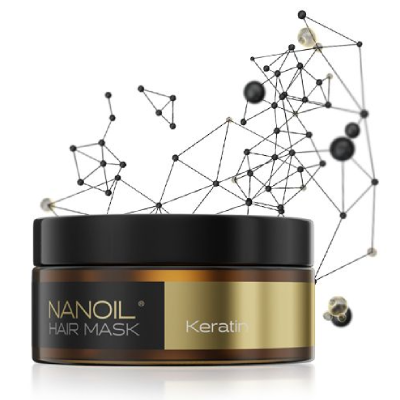 ORIGINAL NAME: Nanoil, Keratin Hair Mask
SIZE: 10.1 fl. oz / 300 ml
A weightless formula saturated with hydrolyzed keratin whose tiny molecules repair and reinforce hair better than other keratin products. The secret lies in the size of keratin molecules that get inside the hair shaft to fix the damage from within. This results in strong, thick and stunning hair that is resistant to damage.
A huge plus for creating visible effects after a single use! Keratin hair mask from Nanoil leaves strands smoother, softer and shinier, but most of all easier to comb and style. Another good thing is the short and simple formula. To boost the effectiveness, Nanoil paired keratin with panthenol, aka provitamin B5 that adds an intense hydration to the strands. Thanks to these ingredients, Nanoil keratin hair mask is proven to deliver top-notch hair repair treatment. Additionally, Nanoil mask deals pretty well with the problem of split ends, revives brittle hair and stops thinning.
Why is Nanoil keratin hair mask the best? Obviously, the competitive price is one of its qualities that may encourage you to buy it, but there is more. This is the only such hair mask being so good at delivering the desired results without striping hair off the volume. To enjoy all the benefits of Nanoil Keratin Hair Mask, you just need to spread it along washed hair and rinse after 10-15 minutes.
2 / Intensively smoothing keratin hair mask Goldwell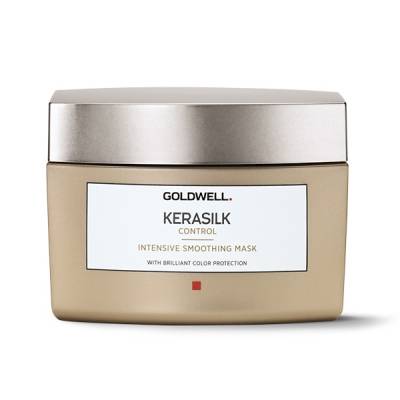 ORIGINAL NAME: Goldwell Kerasilk, Control Intensive Smoothing Mask
SIZE: 6.76 fl. oz / 200 ml
A hair mask destined for daily hair treatments from the luxurious series Goldwell Kerasilk comes in a slightly smaller size but gives equally good results as the product mentioned above. It's destined for weak and frizzy hair that clearly requires repair – the product nourishes and improves moisture levels in hair.
This nourishing hair mask for dry hair owes its effectiveness to KeraShape technology, which is said to reinforce the weak inner hair structures. This product is a combination of keratin and silk molecules, which are two proteins known for being essential for hair. Naturally, this isn't a two-ingredient product because Goldwell Kerasilk mask is saturated with silicones that smooth hair out quickly and effectively. In the majority of cases, this product helps tame unruly and frizzy wisps. It's worth realizing that getting this effect depends on you using this mask on a regular basis and the scale of the hair problem you experience. Sometimes using only a hair mask may be too little.
When it comes to the Goldwell Kerasilk application, it's pretty simple. You need to wash the hair, blot up the excess water with a soft towel, apply a portion of the hair mask and let it do its thing for 5-10 minutes. Finally, rinse it out, brush the hair and dry it as always.
3 / Keratin hair mask Lanza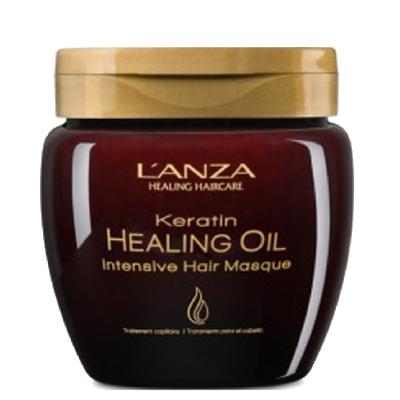 ORIGINAL NAME: Lanza, Keratin Healing Oil Intensive Hair Masque
SIZE: 7.10 fl. oz / 210 ml
One of the costliest but at the same one of the most popular keratin hair masks is the product offered by Lanza Keratin Healing Oil. It intensively conditions, strengthens and repairs the hair due to Phyto IV Complex that is composed among others of crambe abyssinica seed oil, acai berry oil, babassu butter and coffee bean oil. Interestingly, Lanza hair mask also contains resveratrol which is one of the strongest anti-oxidants used in the beauty industry.
Why, despite having such a rich formula, isn't Lanza's hair mask the top product? Because the rich formula doesn't stand for high effectiveness. This product strengthens the hair, makes it more elastic, smoother and moisturized, as well as it leaves the hair good-looking no matter the age. This means that this keratin hair mask does the same things like any keratin hair mask does, with just one exception – Lanza hair mask is more expensive.
However, if you think that Lanza Keratin is suitable for your hair, using it on a daily basis won't cause any problem to anyone. One of the pluses is the fact that this product can be applied to both dry and wet hair. Just 5 minutes in the case of weak hair, and 20 minutes in the case of extremely damaged hair is how long you need to let this product stay on the strands. Obviously, you have to rinse it out to avoid flat hair.
4 / Keratin-complex hair mask Alfaparf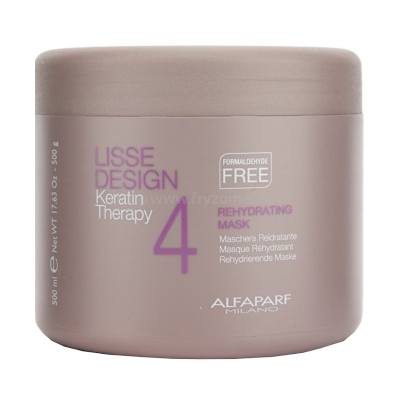 ORIGINAL NAME: Alfaparf, Keratin Therapy Lisse Design Rehydrating Mask
SIZE: 16.9 fl. oz / 500 ml
This offering from Alfaparf Milan is a strengthening hair mask commonly used in hair salons because it's key purpose is to deliver keratin treatment aftercare. It helps increase the longevity of the effects of Brazilian hair straightening. You can also use this product to condition damaged hair at home.
The producer advertises Alfaparf Lisse Design Keratin Therapy as an intensively hydrating hair product. It's supposed to limit hair dryness which is why strands remain healthy, shiny and beautiful for longer. Additionally, this hair mask eases combing and ensures the long-lasting effect of sleek strands – actually, this is where its huge popularity as a keratin treatment aftercare comes from.
What's inside? The main ingredient is Kera-Collagen Complex which is a combination of collagen and precious keratin. The formula is enriched with babassu oil that leaves hair softer and shinier. All the ingredients are closed in a big size jar which is why Alfaparf keratin hair mask lasts really long.
5 / Nourishing keratin hair mask for dry and damaged hair Kallos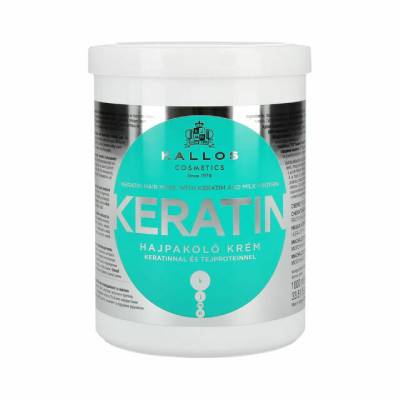 ORIGINAL NAME: Kallos Cosmetics, Keratin Hair Mask
SIZE: 33.8 fl. oz / 1000 ml
Lastly, the keratin hair mask that can't be missed out because this is one of the most popular cosmetics in this category. Kallos hair masks are commonly found both in hair salons and home bathrooms, even though they don't offer the top-quality formulas. It can't be denied, the low price for a big size jar is what works to these products' advantage.
Kallos Keratin Hair Mask combines keratin and milk proteins which makes it another hair mask having a strong repair effect. It fills in the cracks along the hair shaft, prevents splitting, reinforces, and at the same time eases combing and reduces frizz. It's worth realizing though that this keratin hair mask contains silicones, meaning that it may weigh fine hair down, depriving it of this much-desired volume. One of the biggest pluses to mention are the fast effects that become visible after one use. Delivering results at such a fast pace is owed to the silicones that build up along the strands, leaving even the most rough-textured hair sleek.
Application of Kallos hair mask with keratin and milk proteins isn't complicated. You need to wash the hair and spread a portion of this cosmetic along the wet locks. Rinse the product out thoroughly after a few minutes.