Mineral makeup products, which include foundations, powders, eye shadows and concealers, are incredibly lightweight and long-wearing. In fact, they have definitely more advantages than just these two. For example, they create natural-looking effects and don't irritate even hyper-reactive and delicate skin. What are the properties of mineral makeup products and what are their components? How to apply them? Who is destined to use mineral makeup products?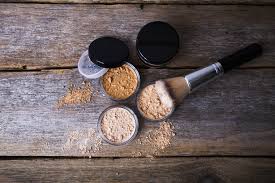 Properties of mineral makeup products
First of all, mineral cosmetics are gentle for delicate skin. Primary they were designed for skin that has been exposed to laser skin resurfacing treatment, microdermabrasion, botulinum toxin treatment and other more serious plastic and dermatologic surgeries performed to face. Apart from that, mineral makeup cosmetics work well on skin that is affected by acne, allergy and even some radiation treatments. Composed of a smaller number of substances than regular color cosmetics, mineral makeup products are gentle and hypoallergenic, and what is strictly connected with this – they don't cause irritation even to problematic skin.
Despite being loose, mineral cosmetic blend into skin flawlessly. Thanks to thick consistency, mineral cosmetics are picked up by a brush easily to later melt into skin and create natural look. Moreover, such makeup products last long and don't stain clothes. On the top of that, mineral makeup cosmetics don't contain any chemical constituents which means that they are free from preservatives, fragrances, waxes and petroleum derivatives. It can be said that such beauty products are made of pure minerals only.
Constituents of mineral makeup products
In most cases, mineral makeup products contain:
zinc oxide
titanium dioxide
mica
pigments of natural origins, e.g. oxides of iron, chrome, manganese and ultramarine
The white of zinc oxide and titanium oxide determines how intensive color a particular mineral cosmetic is. To clarify, the more oxide of either element is used in a makeup product, the lighter the shade. The titanium dioxide itself is not only responsible for camouflaging properties of a product but also it makes a natural sun protection (SPF 15). When it comes to zinc oxide, it has antibacterial and skin-constricting effect. Apart from that, it balances sebum, dries acne out and takes part in curing skin blemishes. Used in various proportions, these two ingredients make two basic constituents of mineral primers, eye shadows, concealers and blushers.
Mica brightens skin up and gives it either satin or pearl-like shine which contributes to reducing wrinkles. Finally, pigments of natural origins give the colors to products without being hazardous to skin.
How to use mineral makeup products?
All mineral makeup cosmetics should be applied in layers. For example, in the case of problematic skin, so when high camouflage is needed, spreading a few layers of a mineral foundation won't create the dreaded mask effect. When it comes to the application itself, you have to use a thick-bristle brush to spread the mineral cosmetics over face. Use only circular motions since this technique covers blemishes up better.
Who can use mineral makeup products?
Mineral makeup products are designed for sensitive skin that just needs to be evened out, not to be hidden under a thick camouflaging coat. Owing to their healing properties, mineral makeup products absorb sebum and help cure small acne. The truth is, thanks to their delicate and organic ingredients, mineral makeup products can be applied to all skin types, including allergy-prone skin. For that reason, even pregnant women can do makeup freely using mineral cosmetics.