Holidays are coming! Remember that Christmas preparation doesn't only happen in the kitchen or shopping mall but you can also move it into your bathroom! After all, we all want to feel well and look our best at this time of the year. So, grab some super-simple tips on pre-Christmas beauty routine.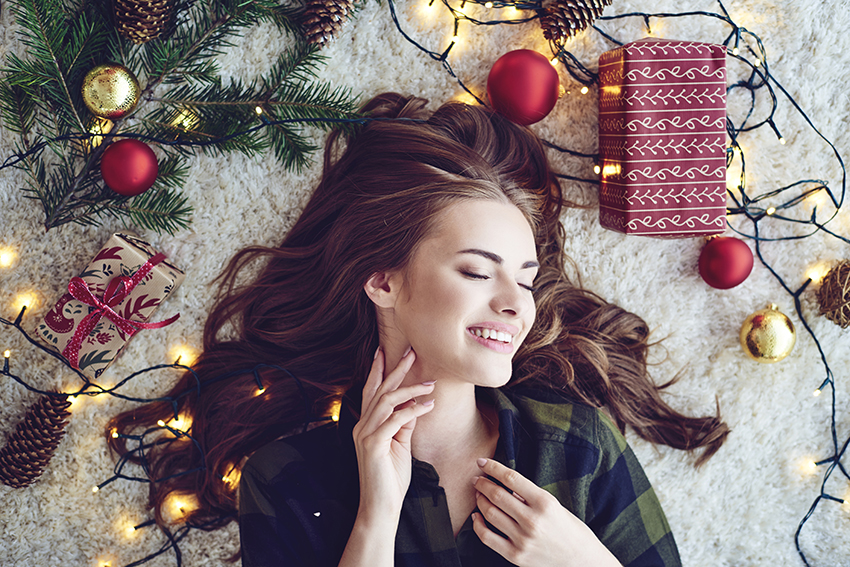 The thing you should realize is you need to start off your treatments soon enough. Even though there are super-fast beautifying treatments that save us in any situation, it's best to enhance the appearance early enough and avoid the unnecessary stress before Christmas because of zits all over the face.
When to start off the pre-Christmas beauty treatments?
Don't wait till the last moment. You've got so many things on your to-do Christmas list anyway. Don't add face masks, scrubs and hair oil treatment to this list. Start off your treatments 2 or even 3 months before the holiday season.
The great thing is you can combine your pre-Christmas skin-care routine with the standard autumn routine. At this time of the year hair needs strengthening after the summer and you need to provide it with essential nutrients: vitamins B, silicon, zinc and iron. See how to take care of yourself before holidays and what to do exactly to stun everyone with a smooth, plump and radicand face.
Pre-Christmas Face Care
Let's talk through face care since the complexion is the first thing we look at. We all want to look stunning at Christmas but it's hard to get the glowing face after days of cooking and shopping. Thankfully, there are some fixes to try:
hydrating and revitalizing face masks – the first fix you can try to revive tired, sallow, dull face; using them once a week is enough and you won't be bothered by the tired-looking complexion when your guests arrive.
face creams

: lightweight day moisturizer and rich nighttime cream give a double effect, keeping the skin optimally hydrated and protected against damaging factors like wind, cold weather, toxins or even stress (feel free to replace a night cream with a face-care oil).

face exfoliation and massage on a regular basis

, stimulating cell renewal for younger, more elastic skin: a fine-grained or enzyme exfoliant removes dead skin cells while massage increases blood flow and allows fuller absorption of nutrients from a mask or cream.
Trick. What to do about the under-eye dark circles and puffiness?
When pre-Christmas preparation takes control of your life, you may wake up with the unwanted puffy eyes and dark circles – this is a normal symptom of tiredness but it doesn't go with your Christmas outfit and glowing make-up.
How to remedy the situation and minimize the puffiness?
There are several effective solutions but coolness is on top. Low temperature makes blood vessels constrict and banishes dark circles, reducing the puffiness as well. Great fixes include:
gel cooling eyeglasses
cool cucumber slices
cold spoon
ice cube massage
and chamomile tea bag or potato compress
It's great if you can test all of the treatments from this post. Homemade remedies are often way better than in-salon treatments costing a fortune. It's good to appreciate them particularly in the holiday season when booking an appointment at the salon borders on the miraculous. If you start conditioning the skin ahead of time and know the best tricks for puffy eyes, you can be sure that nothing will spoil the holiday spirit and you will look your best.