Schwarzkopf is known and valued manufacturer of cosmetics for hair. Great number of men and women all around the World put their trust in this brand. What is more, the brand does not slow down and keeps on going with faith in the modern technologies – so it is clear that they will not be left behind and still surprise us with new cosmetics. If some product or ingredient is currently the top trend then you can be sure that Schwarzkopf will release their high quality version of it.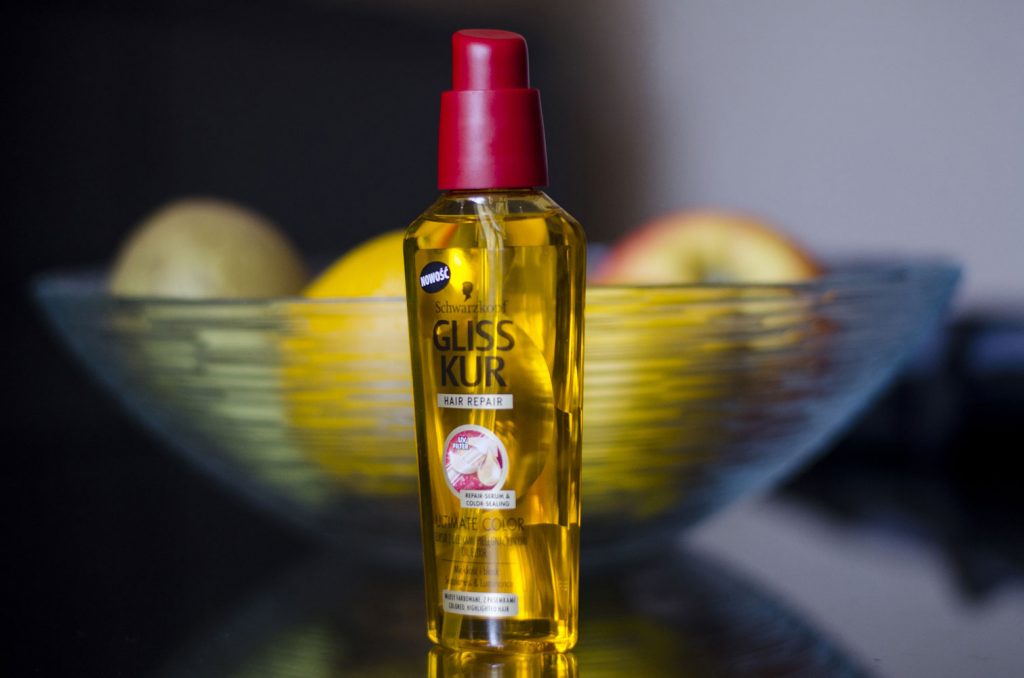 At present, trends in hair care focus on conditioning oils for hair, based in significant level on valuable oils obtained from plants. Today, we will introduce to you, worth recommendation product from Schwarzkopf – oil for colour-treated hair from Gliss Kur line.
Ultimate Color Elixir with conditioning oils was created to take care of colour-treated and requiring special attention and care hair. Great smell and nice plastic bottle with twisting pump (protects cosmetic against spilling) make it visually aesthetic product. What about its action on hair?
It was always known that colour-treated hair need special care. Colourisation treatment weakens and dry them and after some time of mistreating hair they additionally age and lose their beautiful colour. Hair dye fades and hair start to frizz. Then you have to help them by nourishing and conditioning to be able to enjoy beautiful colour and leave them in good condition.
For this aim perfect will be hair conditioner with conditioning oils Gliss Kur "Ultimate Color". Why?
Conditioner has pretty short but full-bodied composition. 95% of used in it ingredients are oils, among all sunflower oil, sesame oil, olive oil, almond oil, macadamia oil, argan oil and marula oil. It is seven oils with spectacular rejuvenating, regenerative, moisturising, smoothing, colour protecting and gloss providing properties.
Effect? Ultimate Color Elixir truly deserves calling it "elixir". The serum regenerates and makes hair gain an exceptional gloss, streaks are nourished and beautifully underlined. On top of that, it will extract hair colour and won't allow it to fade, with simultaneous UV protection against harmful to hair sun radiation.
ADVANTAGES:
easy in use bottle with pump,
beautiful scent,
light formula with great absorption,
affordable price,
seven oils,
UV filter,
exceptional effectiveness up to 10 weeks.
DISADVANTAGES:
consists of alcohol in the composition, but fortunately on the last place (it has trace amounts of it).