Is your skin reddened and easy to irritate? Does it show vascular lesions? If you give a positive answer to both questions then your skin must be couperose (or at least it's sensitive).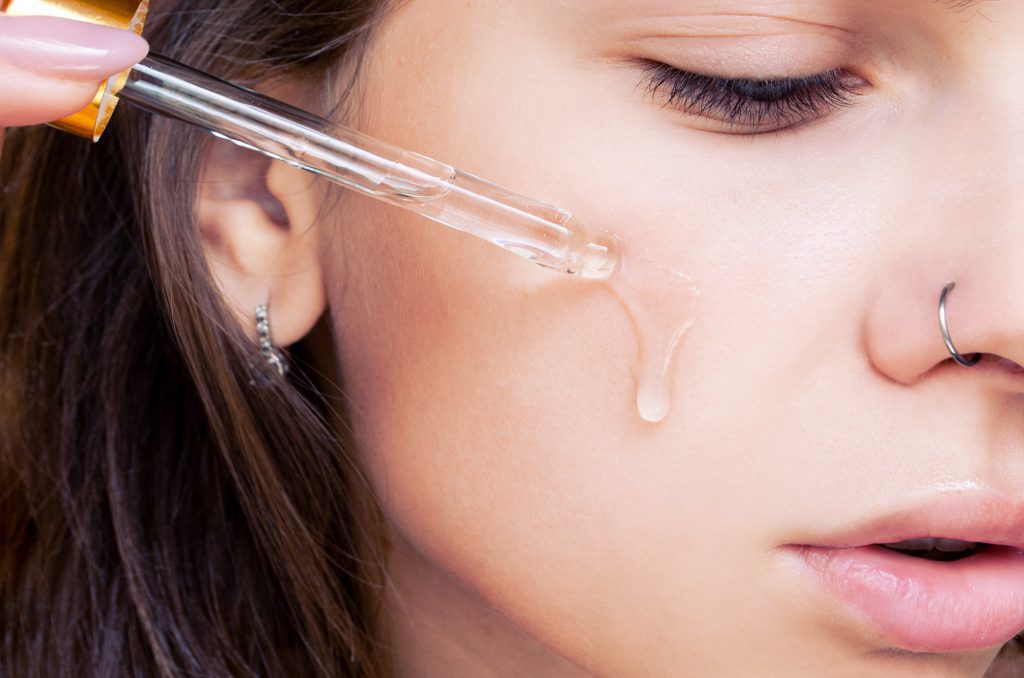 We know how challenging it is to keep such easily irritated skin happy and calm. But we also know a couple of products that will bring you closer to an unblemished and lovely-looking complexion.
Caring for reactive skin has never been easier! Just pick one of the following products and introduce it to your daily beauty regimen to soon enjoy calm and bright skin with no traces of redness of broken capillaries.
What to choose: Face cream or face serum?
For many people these two products seem to be one and the same cosmetic, which sadly isn't entirely true. Actually, these two products deliver better results when used together. After washing the face and wiping it with a tonic, you should apply a face serum because when clean, the skin soaks it quicker and transports it deeper. When you follow the serum with a face cream, it will lock the nutrients inside the skin so that they work from within to soon reveal a smooth, impeccable and healthy-looking complexion. This is how both skincare products work.
Which ingredients should you look for?
While looking for the soothing face serums, we mainly focused on their constituents. Which ingredients did we want to find? Look at the cheat-sheet of the cosmetic ingredients beneficial for sensitive and irritation-prone skin.
horse chestnut extract
This plant-derived cosmetic ingredient targets capillaries to make them stronger and more elastic. This in turn reduces the problem of spider veins and redness. Additionally, this extract is proven to prevent wrinkles and delay ageing.
vitamin C
This is one of the strongest antioxidants of natural origin. Since oxidative stress is one of the reasons for broken capillaries, this nutrient is one of the most essential to be applied to redness-prone skin. Furthermore, vitamin C takes part in collagen synthesis which also has a beneficial effect on the capillaries. Vitamin C delays ageing.
vitamin K
This vitamin is crucial for blood clotting which prevents bleeding in the case of injured blood vessels. As a result, redness is reduced.
glycerin
An amazing moisturizer that also soothes irritated skin and leaves the face smoother.
raspberry seed oil
Increases the natural defensive barrier of skin and shields it from the adverse effects of UV light.
rose oil
First of all, rose oil combats free radicals, which means that it prevents premature ageing of skin. It also brings relief and leaves skin even-toned.
black cumin oil
This naturally-derived oil soothes irritated skin and combats blemishes.
Which ingredients should you avoid?
Naturally, there are also cosmetic ingredients that under no circumstances should be put on reactive skin. Some of them include the following:
ethyl alcohol
SLS, SLES and other detergents
essential oils
certain aromas
6 TOP serums that will free you from redness and other couperose skin problems
1st place – Nanoil, Anti-Redness Face Serum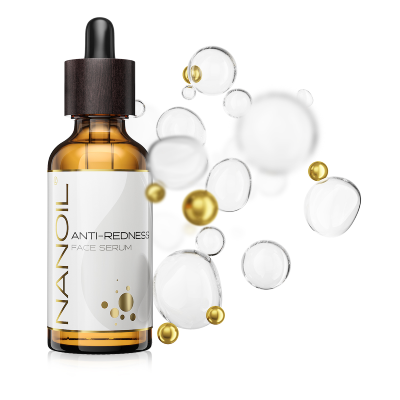 Nanoil serum is the undisputed number 1 among the serums designed to handle all common concerns of couperose skin. As the name suggests, it's main task is to combat facial redness and to accomplish this goal, the serum is made from 4 plant extracts obtained from linden tree, cypress cones, boerhavia diffusa root and chestnut bark. Even though these naturally-derived ingredients complement one another, the chestnut bark extract seems to do the best job. How so? Because it's the best at fighting the problem of broken capillaries.
The serum can be applied twice a day. Apart from reducing the appearance of spider veins and redness, it makes skin stronger, thus more resistant to external factors that cause irritation. It gets even better after realizing that Nanoil Anti-Redness Face Serum also supplies skin with nutrients and water for better-looking complexion. This clearly makes the serum a do-it-all product perfect even for the most delicate complexions. It's also suitable for vegans. On top of that, Nanoil Anti-Redness Face Serum is available in a 50-ml (1.69 fl. oz) bottle which gives you a few long months of skin improving and redness-reducing treatment.
Original Nanoil serum for redness can be order from nanoil.us
2nd place – Dior, Capture Youth Redness Soother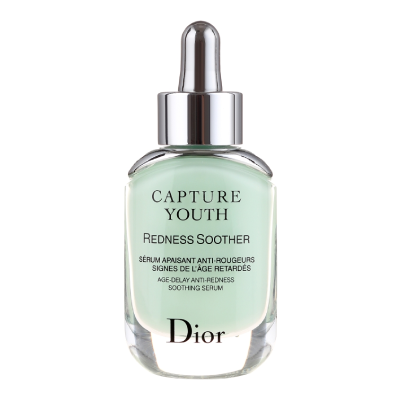 Dior has launched a face serum perfect for couperose and sensitive skin. It delivers instant relief to irritated skin. When used for a longer period of time, Capture Youth Redness Soother is able to reduce facial redness and leave skin even-toned. It's also worth pointing out that this care product is formulated with anti-ageing agents.
Other ingredients used in this serum are vitamin E and wheat peptides to name just two. In general, this serum is mainly made of naturally-derived ingredients. On top of that, the formula is easy to spread on the face. For best results, it's suggested combining Capture Youth Redness Soother with a face cream from the same series. Sadly, the relatively high price doesn't make it an affordable skincare product.
3rd place – Exuviance, AntiRedness Calming Serum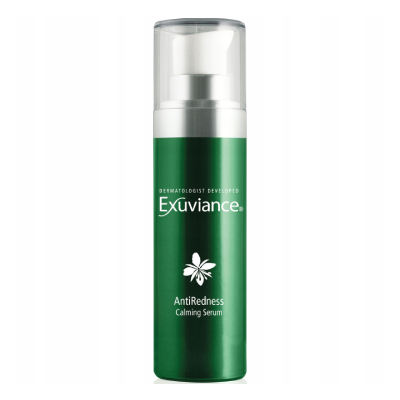 Exuviance is a brand whose products can be found in professional beauty salons and high-end drugstores. Luckily, AntiRedness Calming Serum, which is dedicated for sensitive and redness-prone skin can be found online, yet not all over the world. Actually, this product is also said to help deal with rosacea. The results are delivered within a couple of weeks. What does this calming serum do?
Firstly, it brings relief to irritated skin. When absorbed, Exuviance AntiRedness Calming Serum stops inflammation and repairs the damage caused to the walls of blood vessels. The effects wouldn't be so spectacular, if it wasn't for vitamin C, vitamin E and lactic acid that the serum is made from.
4th place – Dr. Grandel, Couperose Expert Concentrate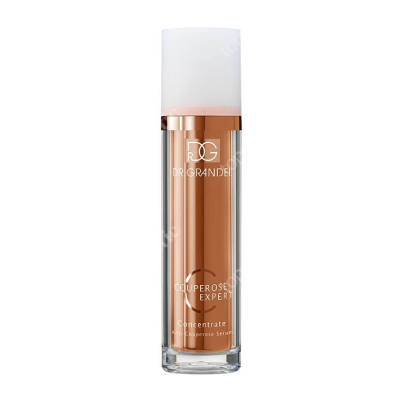 The most distinguishing feature of Couperose Expert Concentrate is the Peptyd Matrix complex developed by Dr. Grandel. This blend of ingredients is said to repair broken nets of collagen and elastin in skin. Other constituents that improve the skin are vitamin E and plant extracts taken from the root of Asian grass and leaves of mugwort. The formula is also enriched with rose oil for stronger capillaries.
Interestingly, the serum has green pigments that are responsible for camouflaging facial redness. Just like the above-mentioned face serums, Couperose Expert Concentrate contains some anti-ageing agents. If you want to enjoy the best results, you need to use this serum together with a face cream from the same line.
5th place – Mesoboost Capillar, Day Serum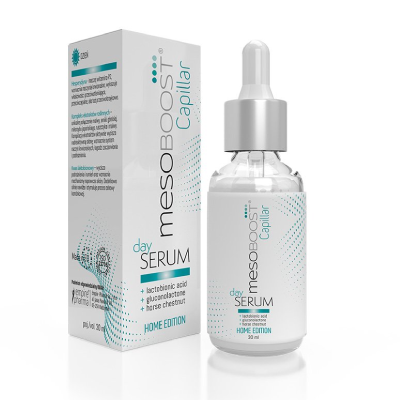 When it comes to the characteristic features of this serum, it's undisputedly its gel texture. Like its competitors, Mesoboost Capillar Day Serum came into existence to serve sensitive, normal and redness-prone complexions. Chestnut and ginkgo biloba extracts are responsible for sealing and strengthening the walls of capillaries. Naturally, this serum isn't a two-ingredient product – its formula also includes lactobionic acid and gluconolactone both being in charge of reducing redness.
The good news is that Mesoboost Capillar Day Serum doesn't only deal with facial redness but it also boosts skin's natural defense mechanisms, making it more resistant to external factors. Sadly, some users point out that it takes long for this face serum to penetrate through the skin. Others claim that it isn't good with makeup products, which means that the serum should be used only for the evening routine.
6th place – Dr. Jart+, Cicapair, Tiger Grass Re.Pair Serum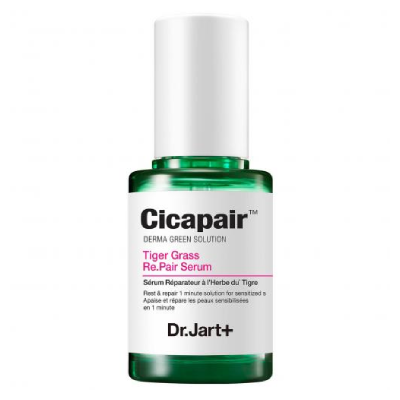 Here's the last face serum dedicated for sensitive skin prone to redness and vascular lesions. It focuses on bringing instant relief to irritated skin. How does it do that? Mainly thanks to panthenol and Gotu Kola extract blended with other plant-derived ingredients. The list of constituents is pretty long but the whole composition is dominated by naturally-derived substances. Yet, it shouldn't be forgotten that the more constituents, the bigger the risk of irritation.
The more Dr. Jart+, Cicapair, Tiger Grass Re.Pair Serum is applied to skin, the less reactive it becomes. What's interesting, this serum can be used topically, but you can also spread it all over your face and neck. Sadly, this product is reported to have some problems with reducing widespread vascular lesions but it'll surely have a positive effect on the skin's appearance.