Castor oil is one of the most popular natural oils but its multiple uses are still unknown to most people. We share the properties of castor oil and some great ways to make use of it during your daily beauty routine.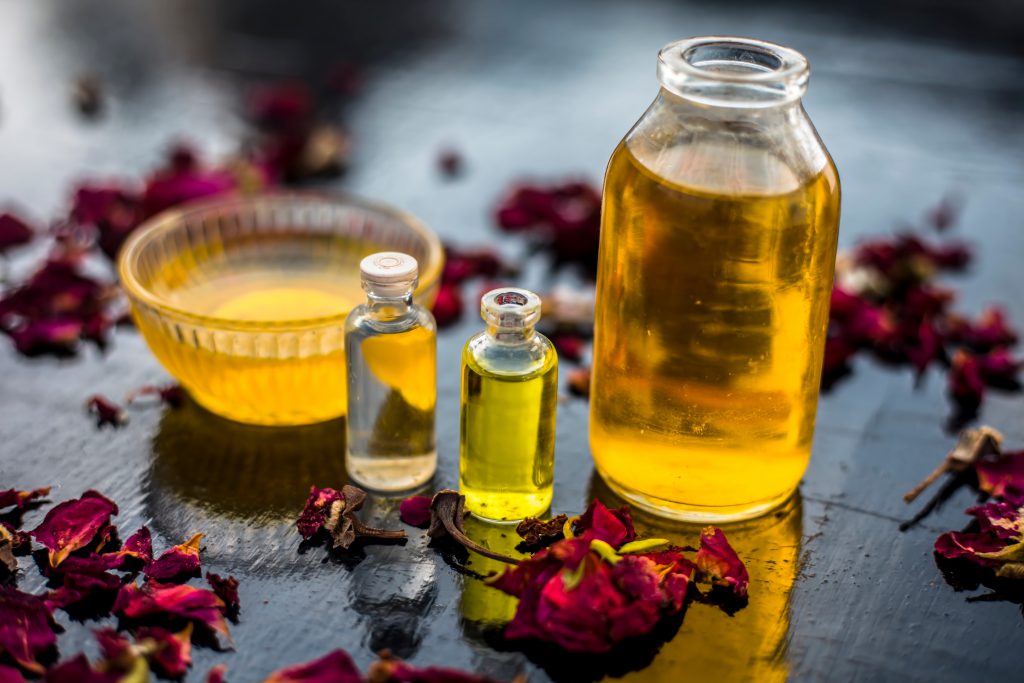 The popularity of castor oil probably flows from the low price and easy availability. You can buy it at any drugstore because it's a laxative. This property scares some girls away but it turns out to have other qualities which are noteworthy.
Castor oil
Castor oil is extracted from the beans hidden in the red spikes of castor oil plants. This decorative plant houses lots of nutrients but it is hazardous in unprocessed form because of a poisonous substance called ricin.
Luckily, castor oil is fully safe. To make the most of it, you need a cold-pressed, unrefined, 100% organic oil.
What is castor oil made from?
The chief ingredient is called ricinoleic acid – a unique fatty acid which has antibacterial properties and isn't found in any other oil. Thanks to this acid, the oil works best for acne-prone, problematic complexion, and to treat scalp conditions such as dandruff, excessive oil production, psoriasis. Still, the quality of castor oil is the most important: only cold-pressed pure castor oil has the biggest amount of ricinoleic acid, as well as vitamins, minerals, and phytosterols.
Properties of castor oil
If you choose good castor oil, you can be sure it works as an all-round product for hair, skin, nails, and even lashes. Once you incorporate it into the daily routine, you will notice:
it stimulates faster growth of lashes and brows.
it inhibits hair loss.
it promotes faster growth and makes hair thicker.
it eliminates problems like persistent acne.
it clears skin of bacteria and toxins.
it strengthens, moisturizes, and adds elasticity.
it prevents inflammation and has a soothing effect.
What to use castor oil for?
All of the properties of castor oil allow us to use it for daily beauty routines in a plenty of ways. Just one castor oil is enough to fulfil the role of many beauty products. Use it:
● to remove make-up
Castor oil works wonderfully as a natural make-up removing oil. You just need to mix it with a less thick oil – e.g. almond or argan oil – to get an OCM blend for clearing the face (also of the grease). The skin is fully clean as well as conditioned, hydrated and has a natural pH.
● to stimulate faster growth of hair, lashes and brows
Castor oil is best known as growth-stimulating oil for hair, lashes, brows and even nails. You just need to use it regularly to make it enhance the follicles, and wait patiently. After a few weeks the hair is stronger, thicker, longer and fuller-looking.
● as a nail conditioner
Castor oil can also be rubbed into the nails as a natural alternative to readymade conditioners. It's absorbed fast, strengthening the nails and restoring the shine. It eliminates dark spots, prevents nail breakage and primes nails for manicure.
● for DIY beauty products
Using castor oil as a base for homemade cosmetics seems to be the easiest way to make the most of it. Add it to DIY face masks, scrubs, hair masks and other treatments to nourish, moisturize and bring balance.