In a magical way it improves condition of dyed hair in spite of its affordable price. It consists of UV filter and regenerative serum. On top of that, its provides optimal colour protection up to 10 weeks. Meet Gliss Kur Ultimate Color Elixir with conditioning oils from Schwarzkopf.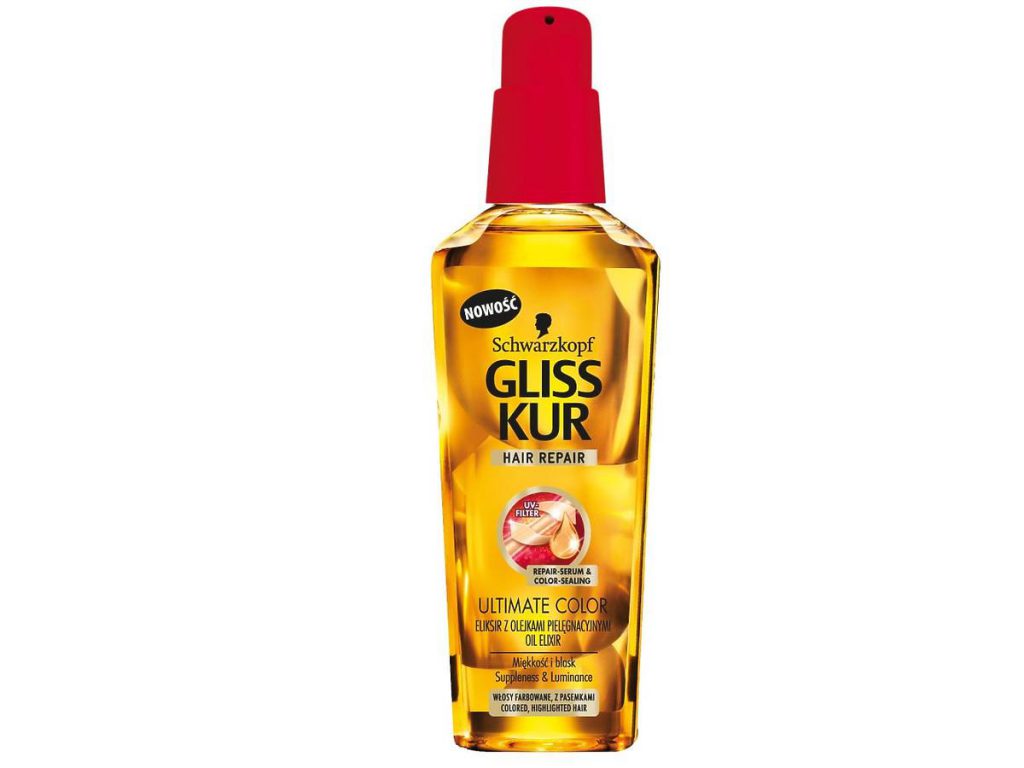 Hair care of dyed hair requires a bit more attention than in case of normal hair. All stylisation treatments, that our hair are subjected to can significantly weaken hair structure. This is why hair care in this case must focus on nourishment, strengthening, regeneration and protection.
This is how Elixir with hair oils Gliss Kur Ultimate Color works!
When developing formula of this product, Schwarzkopf took into consideration needs of dyed hair. Of course, this does not mean that Gliss Kur Elixir with conditioning oils is suitable only for them. It can be used also on normal hair as a highly concentrated hair conditioner. What results provides regular application of Gliss Kur Ultimate Color Oil-Elixir?
ACTION
Elixir with conditioning oils Ultimate Color from Gliss Kur makes hair become softer in touch, smoother and visibly more glossy. From now on problem of matte hair right after colourisation is no problem at all if you only use Elixir with oils Gliss Kur. It provides optimal protection against fading and washing out the colour. What's interesting is that its action can last even 10 weeks!
FORMULA
In contrast to similar products form this brand, Gliss Kur Ultimate Color Oil-Elixir does not have bi-phase formula. In spite of it, product works great and has complex action. It contains regenerative serum and UV filter. Elixir with conditioning oils must (as the name indicates) consist of complex of oils. There are plenty of them in this cosmetic. Beautifying properties are ensured by 6 vegetable oils: sunflower oil, sesame oil, sweet almond oil, macadamia oil, argan oil and marula oil.
APPLICATION
Method of use Schwarzkopf Gliss Kur Ultimate Color Oil-Elixir is not difficult. Small bottle with 75 ml/2.5 oz of volume was equipped in hygienic and very practical pump. Thanks to it you can take perfect amount of product for the application, that administers easily and once spread on hair, does not leave oily film. Elixir with oils Gliss Kur has light formula, that leaves delicate and pleasurable scent on hair. Conditioner maybe applied before hair wash, after hair wash on damp hair or on dry hair to finish stylisation.