I'm coming back with a review of Hyaluronic Replumping Serum! It has been four weeks since I have been using this L'oreal Paris serum so it's high time to present the promised review of Revitalift Filler. Just as a reminder, four weeks is the period of time the cosmetic requires to bring out the desirable effects. Is Revitalift Filler [HA] an effective cosmetic?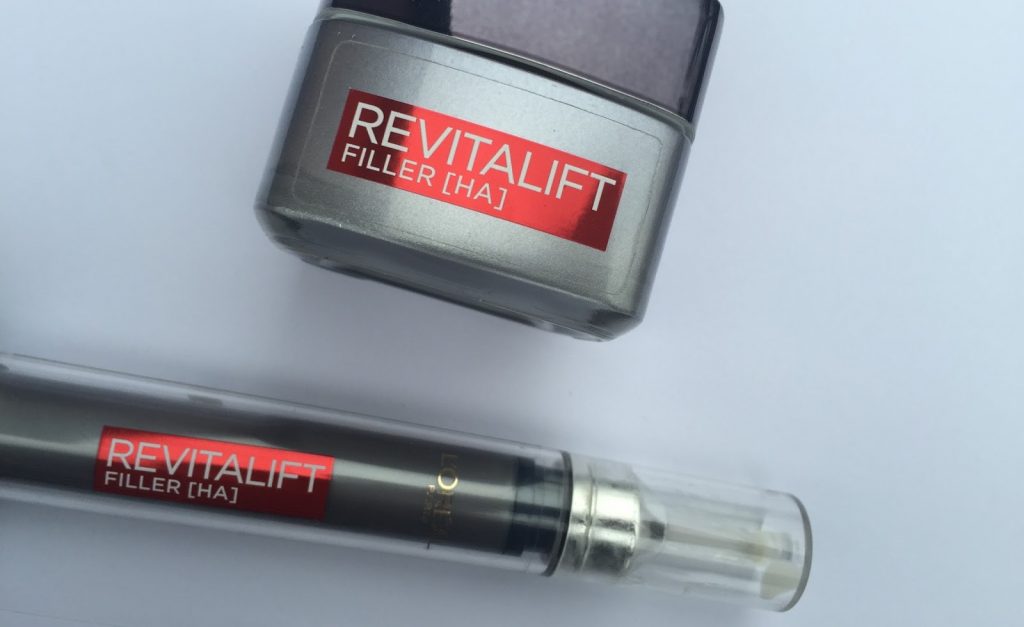 The very first two things that catch eyes are elegant design of the product and fairly untypical package. Hyaluronic Replumping Serum is closed in an oblong package and goes with an applicator that dispenses ideally measured, strictly specified dosage of the product. Additionally, it provides protection against light and air so Revitalift Filler [HA] can be applied long (because germs are deprived of easy access to the product). The only thing that scared me off at the beginning was the applicator that resembles a huge and thick needle. Fortunately, I didn't need to inject anything into my face.
Anti-age care is surprisingly pleasant from the very first use. This sensation is facilitated by delicate and light formula of the product and its pleasant flavour that relaxes. What else can be stated about composition of Revitalift Filler L'oreal Paris? Definitely, the cosmetic does not leave any oily layer on skin because it is absorbed almost immediately after application. For that reason, the cosmetic can be put on right before applying makeup. However, I'd like to use the cosmetic at bedtime, to make it improve my face freely while sleeping.
4 HOURS SINCE APPLICATION
Hyaluronic Replumping Serum by L'oreal Paris was supposed to provide effect of lifting, moisture and firmness just after a few hours since application. To be honest, I was quite sceptical about this promise. Fortunately, I was surprised in a positive way. The product from Revitalift Filler [HA] collection hydrated my skin deeply and I was able to notice my skin was turning into being delicate, fresh and tautened minute after minute. The great plus L'oreal Paris for not speaking idly!
4 WEEKS OF APPLICATION
Let's move on to the final effects of Hyaluronic Replumping Serum treatment by L'oreal Paris. At most, I was counting on eliminating crow's feet that were more and more visible. I found them frustrating. The serum by L'oreal Paris handled this problem just perfectly, my wrinkles disappeared miraculously within 2 weeks, I guess. I've to admit that the effect is really astonishing. What is more, thanks to Hyaluronic Replumping Serum my cheeks are plump again and skin becomes radiant. Moreover, skin tone is evened. I think, I won't exaggerate stating that Revitalift Filler has made me look younger!